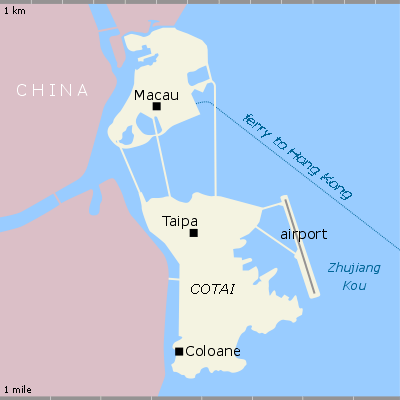 Welcome to Macau 1 on 1, your resource for thoughtful insights into the who, what, where, when and why of purposeful and memorable individual and small group travel to Macau. The staff members here at Asia Pacific Travel, Ltd. have included their "recommended" activities based on their decades of practical experience in Macau travel.

If this is your first visit to our site, please take a minute to read through the helpful information below before you begin to explore "our Macau" (Be warned! This is a thinking/reading person's site.)

The purpose of this website is not to be encyclopedic about Macau, or Macau tourism. There are numerous sites on the web that already do an excellent job of this. Rather, we want to provide you with our personal recommendations of "what to see and do" and "how to do it". We are including some sample itineraries, so you have the most memorable visit possible.

Our assumption is that you have already decided to visit Macau and now you need some help to identify the specifics of what to see and how to do it. If you are still not sure you want to visit Macau, once you have browsed through our various city and attraction pages we are confident you will have found more than enough reasons to convince you to go.

Before you begin, however, please take a minute to note how our site is organized: first, with a country/destination home page, then by city pages, and then by attraction pages. The buttons on the left panel normally relate to the level you are at. Thus, if you are on the Macau country level the buttons will refer to things on a country-wide basis. For example Cuisine will talk about national cuisine, and History will talk about national history, etc. If you are on the city or attraction level, the buttons will refer to things on the city or attraction level, unless there is nothing to show at that level. For example Cuisine at the city level will talk about significant local specialties, if any, and History will talk about significant local history, if any.

In addition, the Sample Itinerary(ies) button has a parallel system of helpful itineraries. At the country/destination level the sample itineraries include summary daily itineraries of various lengths. There are hyperlinks from the country level itineraries to the specific recommended city pages. At the city level the sample itineraries include more detailed daily itineraries of varying length. There are hyperlinks from the city level itineraries to specific recommended attractions.

Since tourism is primarily "sightseeing", throughout the site we have tried to include as many helpful photographs and maps as possible. The "thumbnail" photos at the top of each page are of the attraction, city or country you are viewing. Starting with the attraction level, we pick several of the best photos of each attraction and put these together for the city level. We then take the best photos from each city and put these together for the country level. You can click on any of these thumbnails and a larger photo will pop up in a new window for you to enjoy. Photos and maps used in the text or itineraries normally cannot be enlarged. The button on the left marked Photo Gallery will show a "proof sheet" of all the photos on a particular page for you to view all together.

And now you can ask, "What do they get out of all this?" The answer is we hope to earn some compensation from those viewers who, after reading all the relevant information, decide that they don't have the time and/or experience necessary to put together their own custom itinerary and would like us to do it for them. We request those viewers to contact us, preferably by telephone (although an initial email is fine), so we can "talk" to them about their specific requests. We ourselves don't sell "cookie cutter" tours. In over twenty-five years in business we have never sold the same itinerary twice. Everyone's needs are different and we want to cater to those needs to make every client's trip a truly memorable travel experience.

You should have a pretty good idea of how our site works now, so to get started, please select a City or Attraction from the drop-downs above, or one of the buttons in the left or upper panels and enjoy Macau.



If you would like to see all the photos related to this specific page, please click on the Photo Gallery button in the left panel. The Photo Gallery button will display in a new page all the photos shown in the Flash strip along the top of the page, whether it is a country, city or attraction page. You can click on any of the thumbnail photos to see a much larger version.